Well, I promised I would make something more creative in honor of Valentine's Day, so here it is!  I broke out my lovely Kitchen Aid mixer (It's yellow!  Isn't is beautiful?) and whipped up a delicious Vanilla-Raspberry Jello Cake just in time for V-Day.  The recipe is incredibly simple, but I did include some helpful photographs below, so be sure to check them out!   It starts with a simple white cake.  I usually bake vegan because eggs kind of creep me out, so you'll see my recipe below, but you could just as easily use a boxed cake mix, if you're pressed for time.  Then you prepare the raspberry or strawberry jello according to the directions on the package, pour it over the cooked cake and refrigerate it overnight!  Next thing you know, you have delicious jello cake and you serve it cold with a dollop of whipped cream.  Happy Valentine's Day!
Here's the Recipe: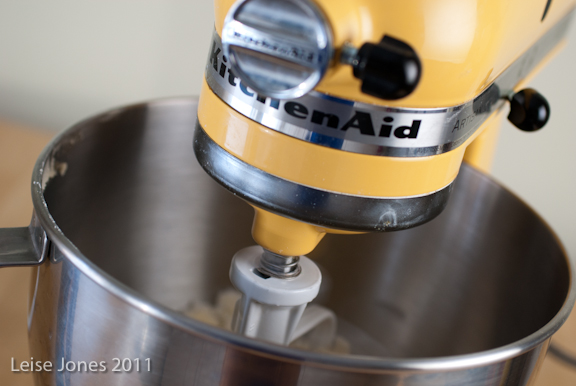 1 1/3 cups white sugar
1/2 cup margarine
3 cups unbleached flour
1 T baking powder
3/4 t. salt
2 cups non-dairy milk of choice
1 T vanilla
Lightly oil a 9×13-inch pan and set aside. Cream the margarine and sugar in a stand mixer or in a bowl with a hand held mixer until the mixture is light and fluffy.  In another bowl, sift together the flour, baking powder and salt. Add dry ingredients into the creamed mixture, alternating with the "milk", and continue to beat the mixture well between each addition. Add the vanilla and beat the mixture for 2 more minutes. Pour the batter into the prepared pan. Bake at 350 degrees for 30 minutes or until an inserted toothpick comes out clean.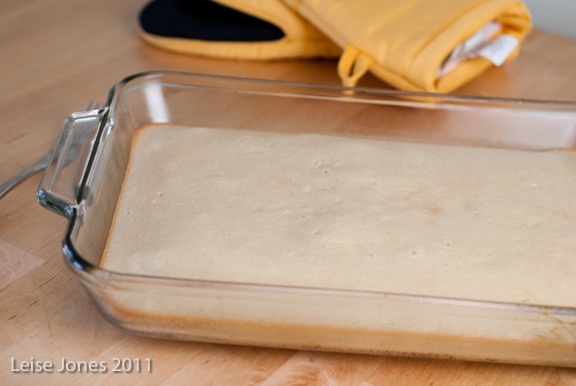 After the cake comes out, it should cool for at least 15 minutes before you add the jello part, so while it's cooling, you have plenty of time to prepare the jello according to the directions on the pack.  I used Raspberry, but you could easily use Strawberry flavored or whatever flavor you like.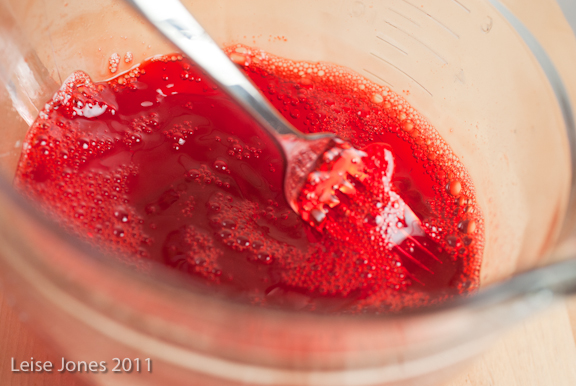 Once the jello is ready to go and the cake is cool, poke the cake all over with a fork.  I mean all over, holes everywhere – but don't destroy the cake itself!  Slowly pour the prepared liquid jello over the cake and it will seep down into the holes.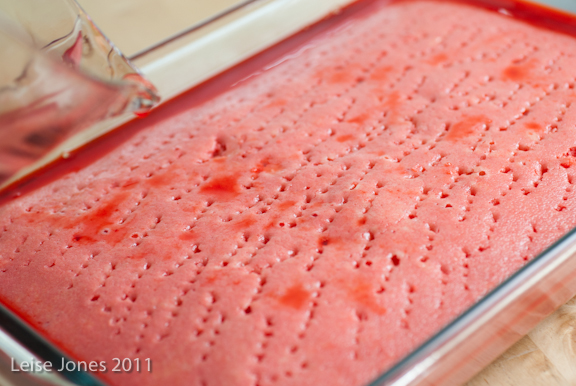 Refrigerate the jello cake for up to 4 hours and serve topped with whipped cream.  Delicious and perfect for Valentine's Day!