First, since I know you're wondering, my name is pronounced just like "Lisa."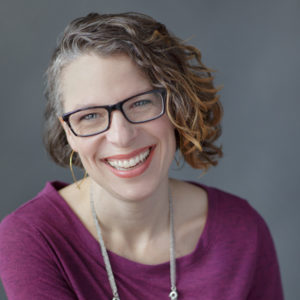 Leise Jones, Owner
That's right – regular ol' Lisa. Just spelled with a few extra vowels.  I love to photograph real life.  Not a posed, dramatically lit, and over-edited version of real life.  Actual real life.
Oh, and I love laughter.
Genuine mouth-open, shoulders-rocking, breathless laughter is what I look for when I am photographing weddings, families and events.  I love it.  I believe laughter makes the most authentic, joyful, and compelling photos of any occasion or interaction.
Some other things that I really love include my kids (almost three-year-old twins), my gray hair (which I swear I'll never cover up), family-style meals (they're just so much more efficient), coffee with lots of cream (half coffee, half cream to be exact), and public radio (it's pretty much the only radio I listen to.)
But now for the more serious stuff.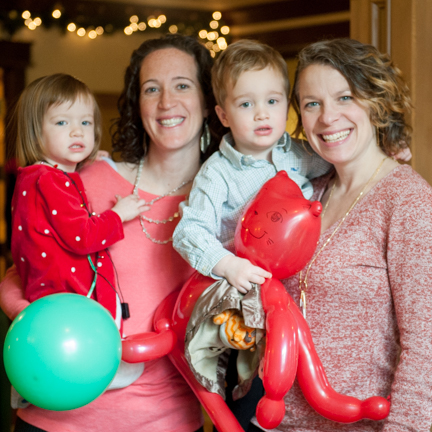 Since 2009, I have specialized in making authentic, natural-looking photographs of people and events.  I work with couples, families, small businesses, and non-profit organizations of all kinds who are looking for photographs to tell their story, commemorate their important days, and communicate their missions.
Clients have described me as an excellent coach; honest, caring, professional and unobtrusive. I have received the Couples' Choice Award from The Wedding Wire in 2015, 2016 and 2017 and have unanimous five star reviews ***** on both The Wedding Wire and Yelp. I am a member of the Professional Photographers of America, have a B.A. from Mount Holyoke College, and a Certificate in Professional Photography from the New England School of Photography.  I live in the Roslindale neighborhood of Boston with my amazing wife, hilarious twins, and lazy housecats.  My office is in Brookline, and I travel throughout New England to work with my awesome book of clients.  I can't wait to hear from you to get started making beautiful and authentic photographs. 
My approach to wedding and portrait photography...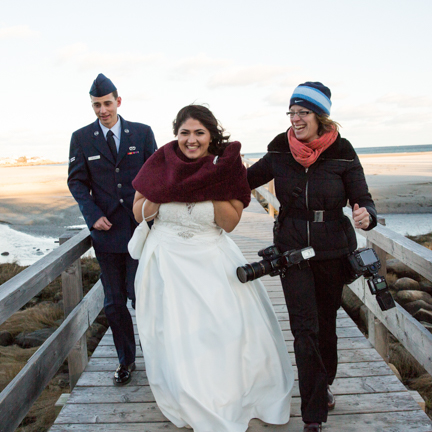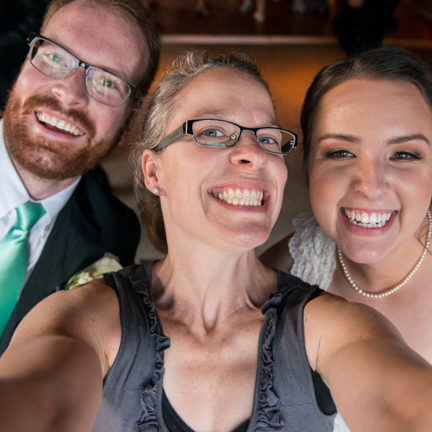 ... is to help you relax and be yourself, so that you can just…laugh. Or cry.  Or smirk.  Or check yourself out in the mirror.  Or just close your eyes and take it all in.  I want you to enjoy the moments in front of you, not worry about things happening behind the scenes. I want you to feel comfortable and confident, not overly worried about how you look. I want you to almost forget that you're being photographed, so that the real, joyful you can shine through.
Of course that is easier said than done. Most people aren't automatically comfortable and authentic in front of the camera and most couples aren't automatically relaxed on their wedding day when surrounded by hundreds of family members and guests.
I totally get it! And yet I truly believe that when you are comfortable in front of the camera, beautiful, authentic photos will be the result.
To help, I have developed a highly personalized and collaborative approach to wedding and portrait photography. We get to know each other. We talk about what kinds of photos you're looking for, what photos you want to look back on in ten years, and what photos you're most excited about. We make lists and timelines and Pinterest boards. My goal is to not only be your photographer, but also your teammate.  I've been known to bustle dresses, pin on boutonnieres, and even sew on a lost button.  I do what it takes to support you through the experience of being photographed so that the resulting photos are effortless, gorgeous, and most importantly, authentic.
That is why I tell people, "Just be yourself, and I'll do the rest." 
Please get in touch today so we can get started making beautiful and authentic wedding photos.
My approach to promotional and event photography...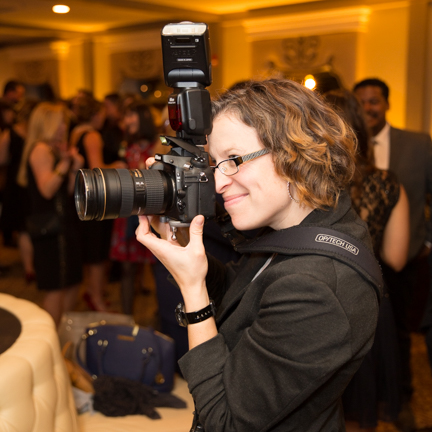 ... for small businesses and non-profit groups is also centered on helping people feel comfortable enough to be themselves in front of the camera.  I specialize in what I call "photo brand storytelling," helping non-profits and mission-driven companies gain visibility and attract donors and clients by telling their brand story through pictures. I do this by documenting the events, activities, and people that best communicate my clients' unique value and message.
My goal is to produce high-quality documentary photographs that are unique, creative, and tell a compelling story, all while keeping the process easy, low-key, and fun.  I consistently provide clients with the comfort of knowing that they will receive the images they want, on time, and at a price they can afford.
Before I became a photographer, I was a community organizer for environmental groups, putting in endless hours to raise visibility and money for issues I cared about.  Now, as a photo brand storyteller, I have combined my passion for social justice and photography by producing excellent images to tell my clients' brand stories. I work with clients to understand their mission, program, and goals BEFORE I pick up the camera so that we can successfully create a library of images that will help them make a bigger impact.
I want to help you make a bigger impact by telling your story through beautiful photos.  Let's get started.